Cam Ranh has been spared from the scourge of accelerated development that has hit some Vietnamese  coastal cities in recent years.
The crystal-blue beaches, mountains and pagodas are just a few of the things that draw tourists to this area. The city is also full of interesting places to see, such as Bình Lập Island, Vĩnh Hy Bay, Hang Rái, Bãi Dài beach, and Ốc Từ Vân Pagoda.
The weather in Cam Ranh is seasonally temperate. For anyone who would like to spend their holiday outside enjoying the beaches and nature, the best months to visit are December through February. The rainy season lasts from September to December.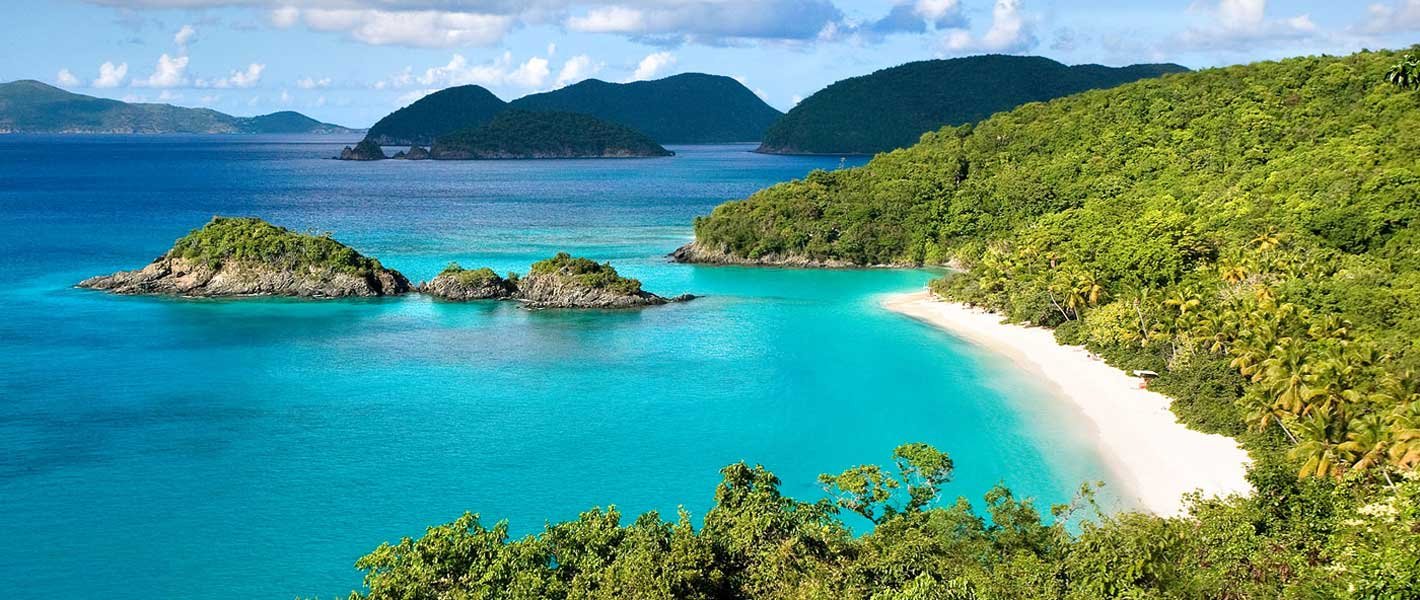 Image source: timhieuvietnam.com
How to Get to Cam Ranh
The fastest way to get to Cam Ranh is by plane. A flight to the city's international airport will take you an hour and a half from Ho Chi Minh City, followed by a 30-minute taxi trip that will cost you around US$10.
If you are on a budget, you can check out private bus lines, such as Futa or Liên Hưng. Many of these operators have offices in Pham Ngu Lao. If you want to save time, travel by night in a sleeping bus. Another great way to discover Vietnam is by train. Even though the travel is slow, you can experience first-hand the beautiful Vietnamese coastlines on your way to Cam Ranh. For information about how to get a train ticket.
The best way to get around and explore the city once you're there is to rent a motorbike for around US$7 a day.
What to See in Cam Ranh
Here are our top five places to visit in Cam Ranh:
1. Bình Lập island – The Vietnamese Maldives
If you want to escape the busy city and elevated air pollution, Bình Lập island is the place to go. Although, it is called Bình Lập island it is technically a peninsula. But don't worry, it has everything that an island should have: long coastlines, white sandy beaches, pristine water, and delicious seafood. Bình Lập is sometimes called the "Vietnamese Maldives".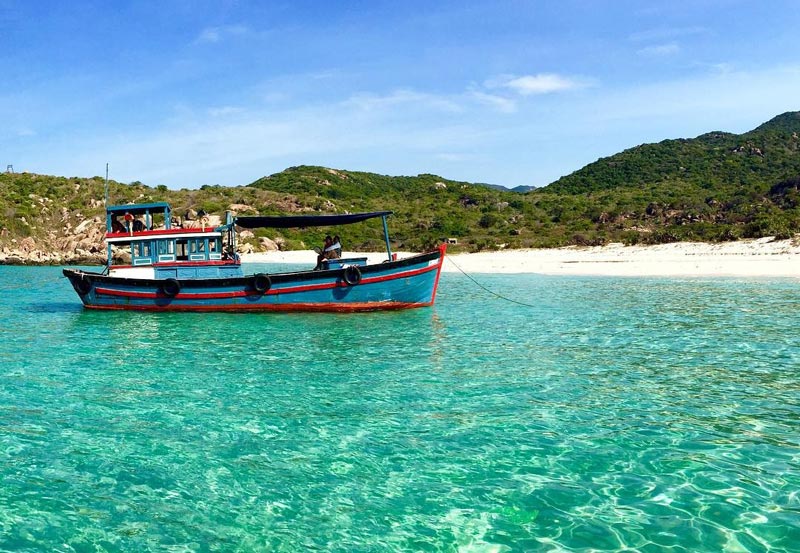 A boat in Bình Lập beach.
Image source: kenhdulich.org
If you're looking for an amazing sea-based resort in the style of the Maldives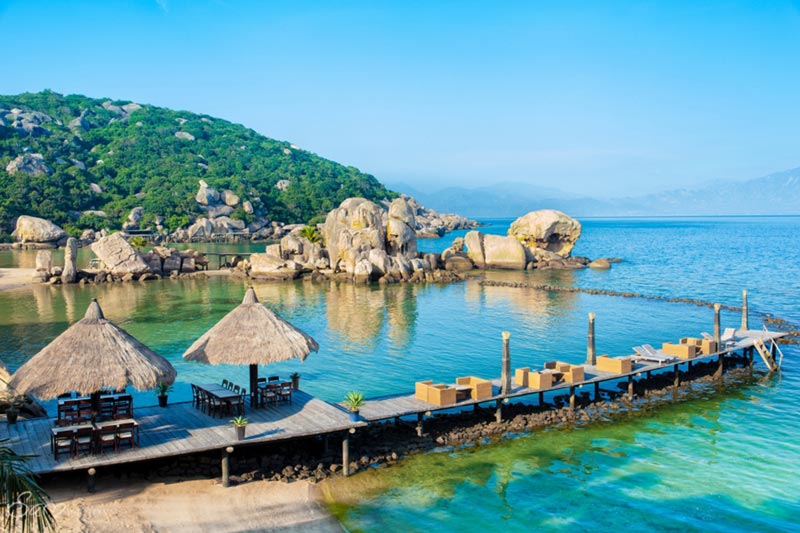 Ngọc Sương resort
Image source: static.lantoa.net
2. Vĩnh Hy Bay – One of Vietnam's most beautiful bays
Vĩnh Hy Bay is home to a fishing village in a small valley surrounded by the Núi Chúa mountains.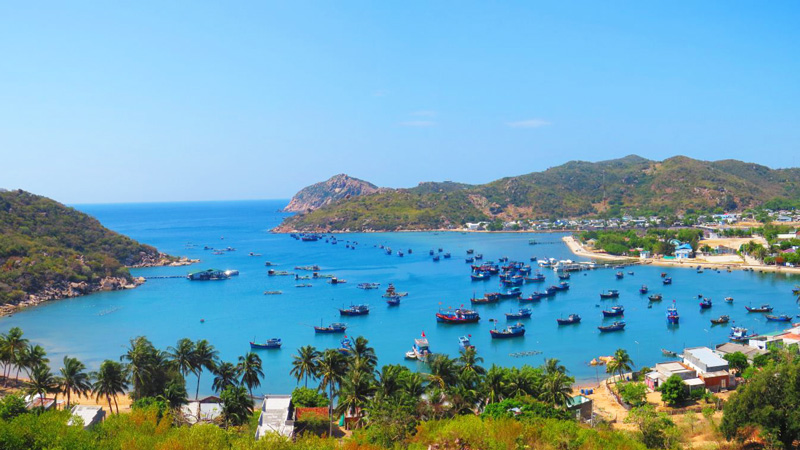 Vĩnh Hy Bay
Image source: baodulich.net.vn
The best way to make the most of the landscape is to drive to Vĩnh Hy Bay by motorbike from Cam Ranh on Vĩnh Hy – Bình Tiên Pass. It will take you around an hour and a half (50km).
You'll know the long ride is worth it as soon as you see the ocean on your left side and the mountains on your right. The area is still mostly undiscovered by tourists, giving the beach an untouched, wild beauty.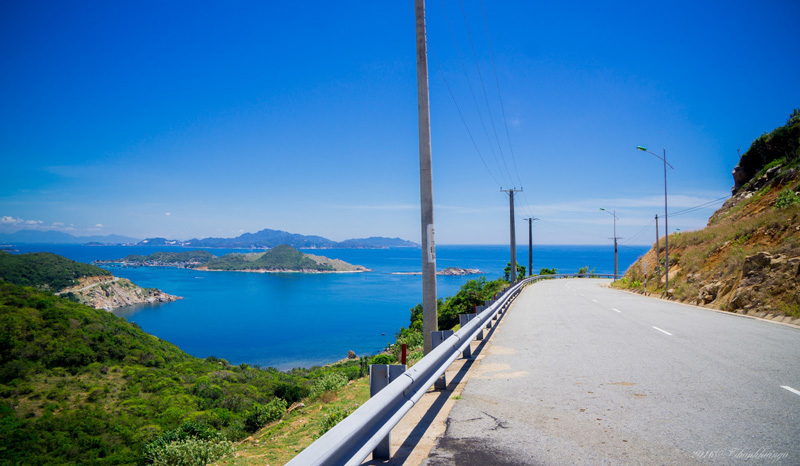 A part of Vĩnh Hy – Bình Tiên Pass
Image source: 3.bp.blogspot.com
3. Hang Rái – Being One With Nature
If you go to Cam Ranh, you CAN'T miss this place. Hang Rai beach is a part of Nui Chua National Park, in Ninh Thuan. It features the fossilized remains of an ancient coral reef, and beaches untouched by development. A fee of VND15,000/person will be collected at the entrance to the national park for preservation purposes.
You can drive to Hang Rái along Vĩnh Hy – Bình Tiên Pass on the way from southern Vĩnh Hy Bay. Hang Rái is about 7km from Vĩnh Hy Bay.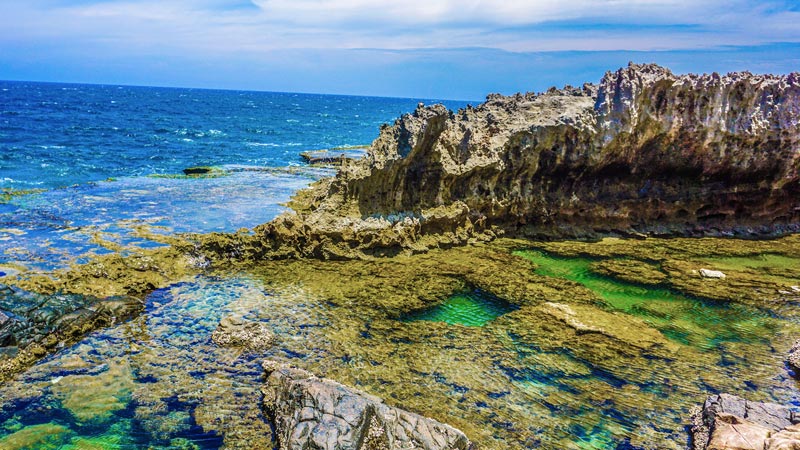 The remains of an ancient coral reef.
Image source: image.thanhnien.vn
The name "Hang Rái" comes from the words for otter (rái cá) and cave (hang). Thus, Hang Rái literally means otter cave. Sometimes, you can still witness groups of otters chilling on the stones. The natural beauty, unusual rock formations and coral reefs in Hang Rái make it a must-do for tourists, as well as the perfect location for couples shooting their wedding photography.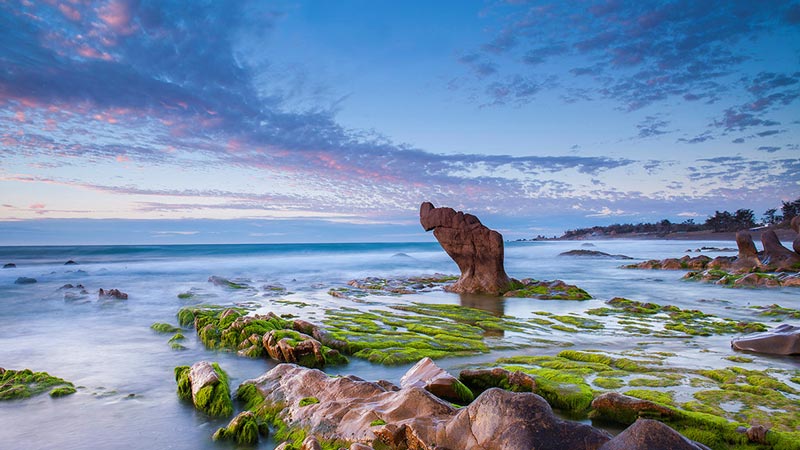 Mossy stones in Hang Rái
Image source: znews-photo-td.zadn.vn
or a different view, visit the grape arbour in Hang Rái. The entrance is free for everyone. Here you can pick grapes or try some homemade red white. It is around 1km from Hang Rái cave if you go straight in the direction of Phan Rang.
You can check one of two gardens:
Vườn nho Sang Tín (Sang Tín grape farm)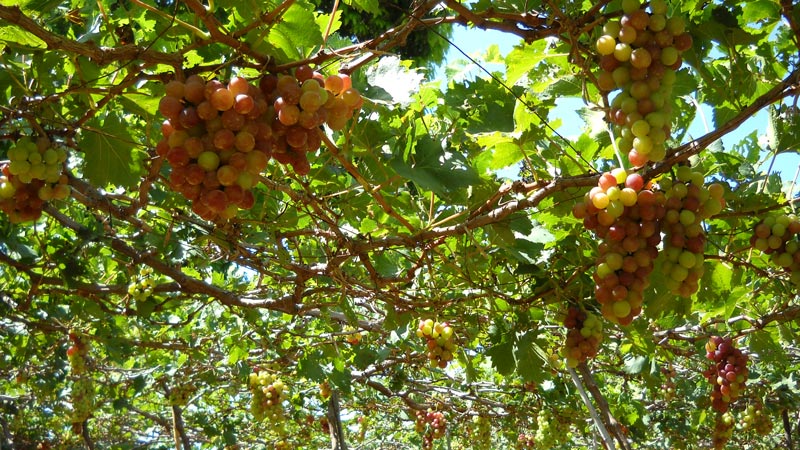 Grape farm
Image source: upload.wikimedia.org
4. Bãi Dài Beach – The Ten-Kilometer-Beach
This beach has plenty of white sand and sea life, along with many activities, such as paragliding, and surfing. Bãi Dài Beach is one of the key locations for tourist development in Cam Ranh and Nha Trang. Numerous resorts have popped up along the beach, and there are many local restaurants nearby. You can easily find somewhere to stay and enjoy the local foods.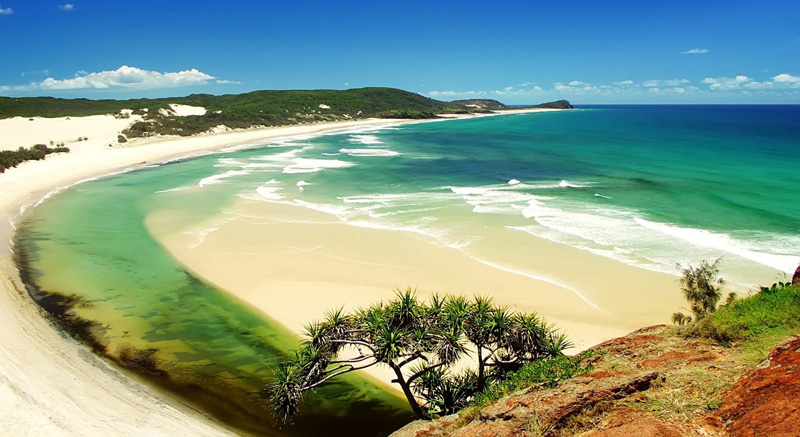 Part of Bãi Dài beach
Image source: tnbland.com.vn
Bãi Dài beach is about 20km from the center of Cam Ranh, and 12km from the airport. From Nha Trang, follow Nguyễn Tất Thành Street, then head over Cù Hin Pass. Turn left, and you will see a sign directing you to Bãi Dài. From Cam Ranh, drive 20km from QL 1A to the airport, then you will see the beach in front of you.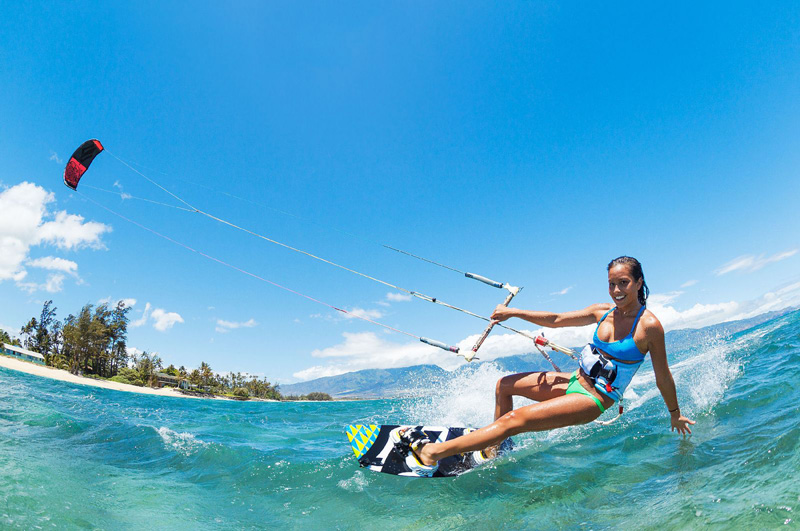 Windsurfing on Bãi Dài Beach
Image source: duancamranh.com.vn
5. Ốc Từ Vân Pagoda – Seashell Pagoda
This pagoda, built in 1968, is located in the center of Cam Ranh. Ốc Từ Vân Pagoda literally means Seashell Pagoda. It got its name because the monks who live there collected seashells and bits of coral on the beach, then decorated every free space on the walls and ceilings with them. The impressive mosaic can be viewed by the public, as well as the Bảo Tích tower, which is behind the pagoda. The tower is 39 metres high and was built by the monks over the course of five years. It was completed in 1995.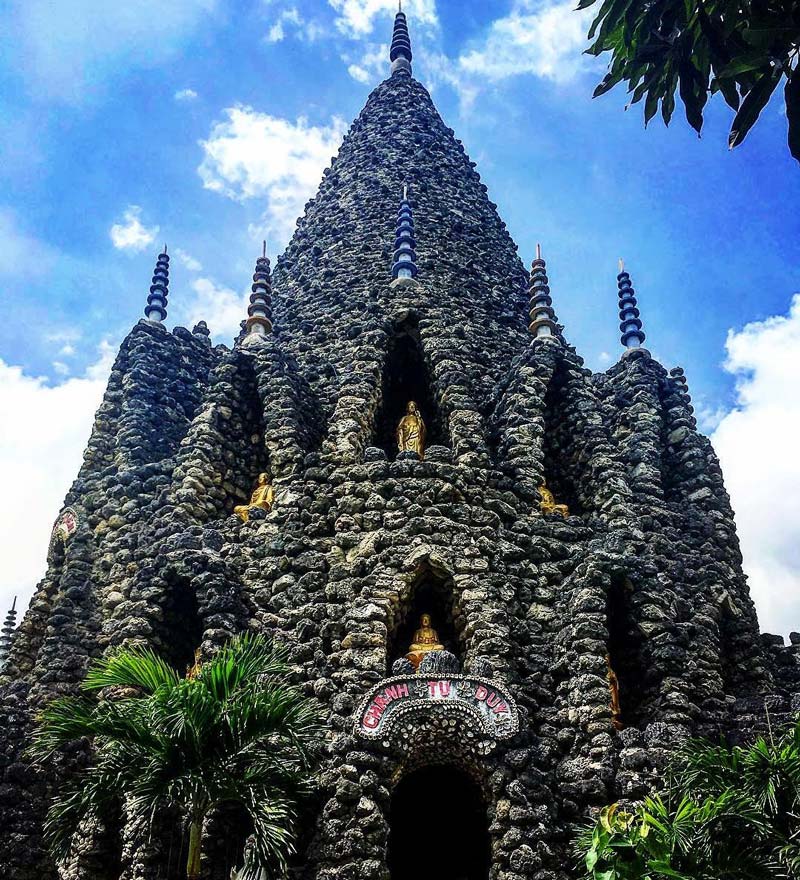 Bảo Tích Tower
Image source: static.vietnammoi.vn
Source: https://www.citypassguide.com/